Backflow Prevention Systems Stop The Contamination Of Your Greater Puget Sound Area Water Supply
Backflow poses a major problem, as water from fire sprinkler systems can contain dangerous metals, microorganisms, and chemicals that could also pose serious health risks if introduced to the surrounding drinking water supply. The backflow preventer is put in place to safeguard against non-potable fire sprinkler system water from flowing back into your drinking water supply.
Backflow can occur both in your building's water system, where the fire sprinkler system is housed and in the town's or city's general water supply. This may happen when pressure from the municipal water supply line is substantially reduced or lost.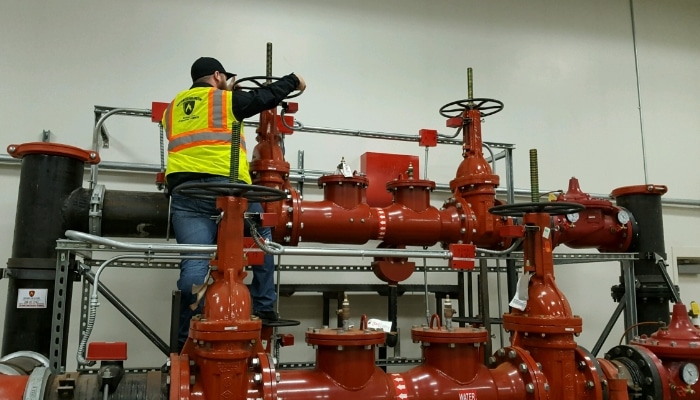 Why Do I Need Regular Testing & Maintenance?
There are national, state and local regulations for the installation and function of backflow preventers, all of which must be met according to strict standards.
Testing should be done annually to test flushing components and test valves. Testing is the ultimate way to ensure that the system functions properly and is not at risk of contaminating other water supplies. It is important for regular maintenance to be performed because this roots out any small problems before they potentially become, bigger, more expensive issues.
Northwest Fire Systems is licensed to provide all of the maintenance, testing and inspection needs of your backflow prevention system. We are aware of all applicable regulations and exactly when they must be met, so that you don't have to keep track of processes that keep your system compliant.
Don't Put Your Water At Risk - Call Today!
If you need assistance with your backflow prevention system, or have questions about any aspect of your fire protection service, we are here for you 24 hours a day. Send us a message online or call us at 206-772-7502 today!